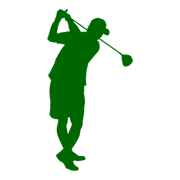 As of 2017, there are 6 golf courses on the island. We introduce all 6 golf courses in Bali in a list for you to understand them better.
With this brief explanation, price and location are displayed, in case you are still considering what round of golf to choose,
It is good to choose by picture or price. The page will jump to an introduction page of each course just by clicking on the targeted course.
<No.1 seller>

New Kuta Golf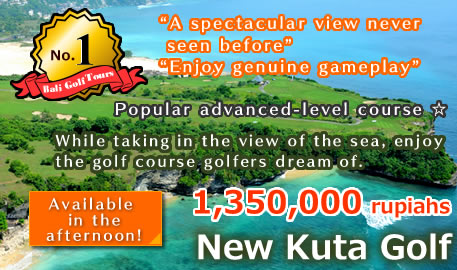 The south of Bali | Pecatu area | Approx. 20 to 30 min. from the air port by car
<Special feature>
○hallenging golf course facing a precipitous cliff♪
○It is a beautiful course on highlands with a wonderful location and view of Bali.♪
○It is a standard course of championships and the first links-style layout in Indonesia♪
○The venue of Indonesia opened in 2009♪
○There are wonderful restaurants and bars (also a spa exclusively for the club) on the links at club house ♪
<No.2 seller>

Bali National Golf

The south of Bali | Nusa Dua area | Approx. 20 to 30 min. from the airport by car

<Special feature>
○ useful and hardcore golf course closest to the hotel area in Nusa Dua♪
○Renewal in 2012 and re-opened♪
○Playing golf while enjoying the view of the Indian Ocean from the golf course♪
○The only club house you can over look the golf courses in Bali. Fulfilling facility♪
○Designed and built as a championship golf course of 166 yards from international-level back teeing ground♪

 
<No.3 seller>

Bukit Pandawa

The southeast of Bali | Pandawa area | Approx. 40 min. from the airport by car

<Special feature>
Recommended for golf lovers!!
All are short courses at Bukit Pandawa Golf, so it takes only 3 hours to get through the green♪

★Recommended by our staff★
At Bukit Pandawa Golf, all are short courses, with many holes over 200 yards if you go a round! Therefore, there are holes made for a driver such as a 7 wood and 5 wood depending your choice!
The green is so well-managed you can say it is the best and most beautiful among golf courses in Bali!

Bali Handara Golf
The north of Bali | Bedugul area | Approx. 2 hrs. from the airport by car
<Special feature>
○The golf course selected as one of the "Top 50 Great Golf Courses in the world"♪
○It is a course in a cool summer resort area in Bali♪
○Beginners can play on the golf course casually♪
○An interesting golf course requires the accuracy of an approach shot unique to mountain course♪
○The elevation is high so it is really cool♪
Bali Beach Golf
The east of Bali | Sanur area | Approx. 40 min. from the airport by car
<Special feature>
○Golf course in Sanur with excellent access from the south area♪
○Reasonable 9 hole-course♪
○Up and down course in beautiful nature, surrounded by tall trees, hills and lakes♪
○It is a golf course where caddies accompany beginners, ladies and senior golfers, allowing them to enjoy stress-free gameplay♪
* In case you play a 8 hole-round, you will go 2 rounds of 9 holes.
Nirwana Bali
The southwest of Bali | Tabanan area | Approx. 1 hr. and a half from the airport by car
<Special feature>
○A golf course boasting its received awards history. One of the most beautiful golf courses in Asian history♪
○Supervised by one of the most famous professional golfers in the world, Greg Norman♪
○Designed with a special feature unique to Bali with temples and beaches included in the view♪
○The best golf course equal to Hawaii for resort course♪
○You can overlook the famous Tanah Lot temple♪
※Please note it has been closed since 31st July, 2017